with yoga and healthy drinks and food in paradise
Foodpower Retreat at Bali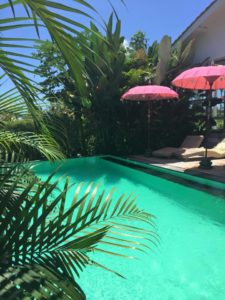 Welcome yourself to a 5 days retreat at Beutiful Bali, the island of gods, to refill yourself with Foodpower and Yoga at Amazing Trinity Gardens.
Spread out your wings and fly – catch the precious moment.
Retreat yourself with focus of yoga and healthy food at the most amazing place at Trinity Gardens right beside the ricefield in Ubud, Bali. It´s a piece of Heaven.
Program include e.g
Yoga every morning, meditations
Foodpower brunch after yoga
Foodpower worskhops
Healthy juices and smoothies
Water cermony, Danceparty, Bhakti
Siesta and just hanging around the pool and sipping a coconut
Additional info:
You can arrive and check in before/around noon at Thursday 14 th and we started our retreat 1 pm. And finish noon the 18 th of December, 2017.
Investment
1100 USD
Early bird price:
If you book and pay before 15 th of june
1050 USD ♥
Deposit hold your space. Full payment. Mark with your name and Bali retreat.
BANK: SEB 5610 10 144 01
And send an e-mail to book your space at the retreat to anna@annaottosson.se
Registration is binding by email. No refundable.
Tuiton includes:
5 days retreat
4 nights in shared double suits at beutiful Trinity Garden
All classes,,workshops, meditations
Welcome dinner, Foodpower brunches every day, healthy drink every day
Watercermony is included.
Not include:
International airfare, transfer
Insurance
Some meals and the entry to a dance feast (around 10 USD)
Everything is closeby with walk but if you prefer transportation (taxi or schooter) is not included.
Coming to paradise:
Find good flights to Denpasar, Bali at skyscanner.com
or if you need help with booking your flight:
Send an e-mail to Lars Hansson på Rextravel
lars.hansson@rextravel.se (say hello from me)
Contact information:
Do you have questions about the hotel – contact:
trinitygardensubud@gmail.com
Do you have question about the retreat contact:
anna@annaottosson.se
Warmly welcome!
So much Love to Bountiful, Beutiful, Blissful You ♥
Anna